August 29, 2019
From A Floodplain to a World-Class Urban Park: The Story of Carroll Creek Park
Assignment: Select a landscape, public park, school campus, or urban plaza in your area that required the services of landscape architects. Find out over the next two lessons as much information as you can about this landscape. By the end of this week you should be able to write a short summary from your research. I would highly recommend researching a local park or urban plaza, so that you can visit it later this week. But if one is not available, you can select a landscape or park that is not in your area.
Introduction
Carroll Creek Park was originally designed as a flood control project in the late 1970's. Downtown Frederick at the time was using a 100 year old floodplain, and when the Great Frederick Flood of 1976 left parts of Downtown Frederick under three feet of water, it was evident something had to be done. Carroll Creek Park is a 40 foot wide and 1.3 mile channel through Downtown Frederick featuring brick pedestrian paths, beautiful fountains and landscaping, pedestrian bridges, and a 350-seat amphitheater. As intended, this park has indeed helped with the flood control and restored the verve and vigor of Downtown Frederick.
The Bridges
The park is host to four different bridges along the waterway. The Community Bridge is located by the Delaplaine Arts Center. Beginning as a concrete traffic bridge, it blossomed into one of Fredericks most popular pieces of public art thanks to William Cochran and other volunteers. Using trample l'oeil painting techniques, they painted fake gates, climbing ivy, the occasional water creature, and more than 3,000 faux stones along the walls. You can walk underneath the bridge and see all of the paintings yourself.
The Iron Bridge is also found near the Delaplaine Arts Center and the All Saints Street Parking Garage. It was completed 13 years ago, in 2006 by Iron Masters LLC. It is a 250 foot wrought iron bridge that features iron trees, scrolling plants and flowers, and even iron water creatures.
The Pedestrian Bridge is a single column suspension bridge named for Willian O. Lee, a school administrator, mentor, City of Frederick alderman, historian and the first chairperson of the African American Resources Cultural and Heritage Society. It is located near the C. Burr Artz Public Library.
The Stone Arch Bridge is located near Market Street. It serves as a functional pedestrian bridge and public art, featuring a Zodiac-themed sculpture with a working clock. Also contributing to public art, this bridge has sculptures on either side.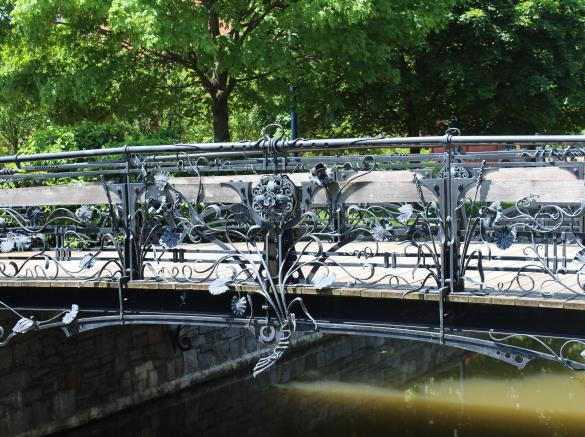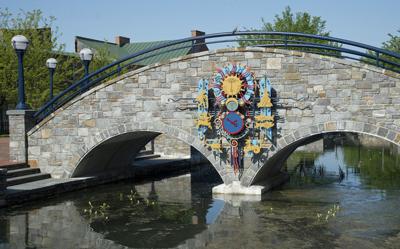 The Cost and Construction
As you know from the Introduction, Carroll Creek Park started as a floodplain to prevent or assist in preventing something like the Great Frederick Flood. The plan put the creek underground in 1993. More than $150 million in private investing went underway and planned in new construction, putting the money into historic renovations along the park.
The first phase of the park improvements nearly totaled $11 million in construction. The construction ran from Court Street to just past Carroll Street. After these improvements, the park featured brick pedestrian paths, pedestrian bridges, water features (ex. Fountains, waterfall steps), planters, flowers, shade trees, landscaping, and a 350-seat amphitheater for outdoor performances. This construction began in very late 2013 and was completed mid 2016.
Conclusion and Summary
When Frederick and parts of Downtown Frederick were devastated by the Great Frederick Flood of 1976, officials decided that this was the opportunity to not only install a park that would restore the vitality of Downtown Frederick, but also relieve Downtown Frederick of its 100-year-old floodplain. The first phase of construction started in December 2013, and it cost a whopping $11 million dollars to fund this construction. Construction ended in May 2016, and the result was amazing. A 40 foot wide and 1.3 mile long park, Carroll Creek Park featured four different bridges, brick pedestrian paths, fountains, waterfall steps, planters, flowers, shade trees, landscaping, and an amazing view from the Pedestrian Bridge. Carroll Creek Park currently hosts the Annual Frederick Festival of the Arts. The next festival will be the 27th Annual Frederick Festival of the Arts, and it will be from June 5th to June 7th.
Source[s]: https://www.cityoffrederick.com/169/Carroll-Creek-Park
https://www.visitfrederick.org/blog/post/the-bridges-and-fountains-of-carroll-creek-park/
Note[s]: All photos are not mine. Any plagiarism is not intended.